Creado. Definitely artistic. Truly spectacular.
We are living in the era of innovations, when being the first one to use something new is essential to keep on leading positions.
In his light we offer you to plunge into the universe of untamed colors and diverse layouts with Creado Art Gallery WordPress theme! It enters the world of templates and immediately attracts attention with its unusual appearance, eclectic design and resplendent functionality.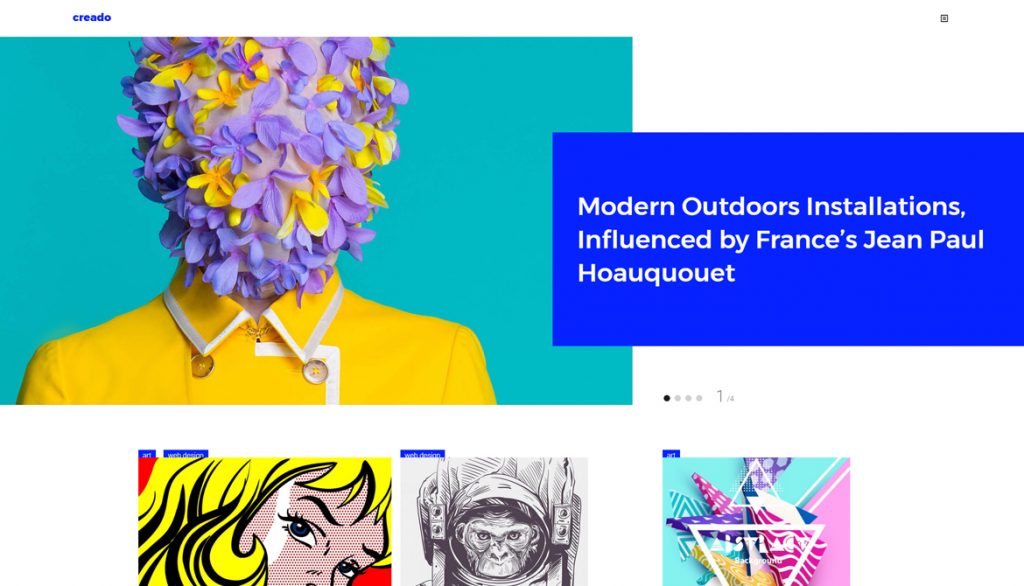 Creado theme has CSS Grid layout in its core, which is actually a new word in the industry of template development. Speaking of this theme, it is impossible to miss the totally new unexpected way of its visual components precise placement and lots of active elements inviting you to try them out.
Fixed or flexible, the elements look spectacular, creating a beautiful pattern that is really eye-catching. And this is why Creado WordPress template stands out so much among the other templates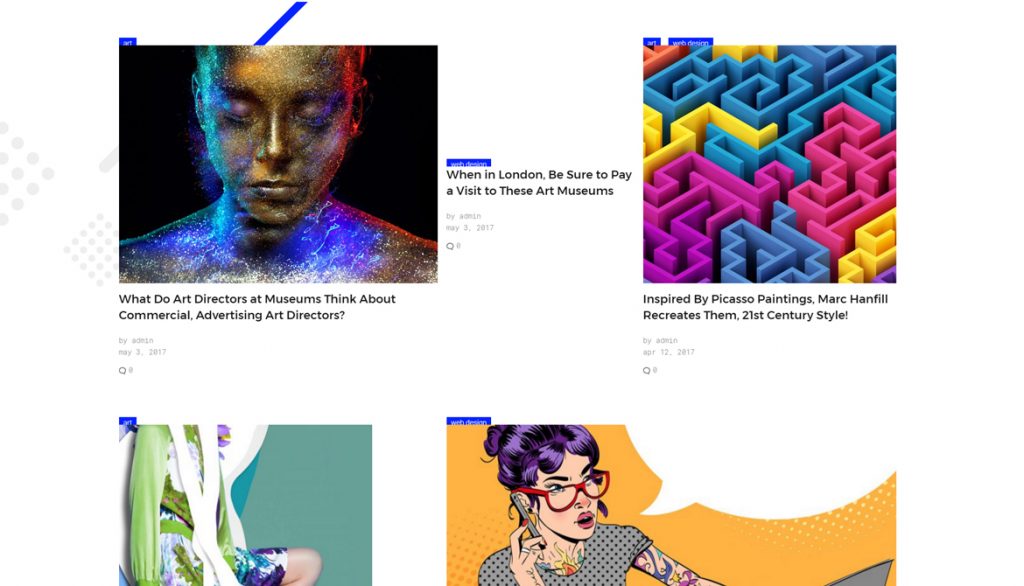 Creado is truly artistic, developed and designed to be the beautiful showcase for art, and includes a perfect platform for creating a blog, dedicated to articism. It has a magnificent appearance, and that is exactly what is needed to popularize art on the web.
It will definitely be to your liking if you are looking for something exclusive and sophisticated, and at the same time Creado WordPress theme comes with the features that let you customize it according to your creative vision.
Change layouts, fonts, color schemes, backgrounds, play around with widget areas using Customizer. It has a plenty of different settings, that allow you to make a template look unique.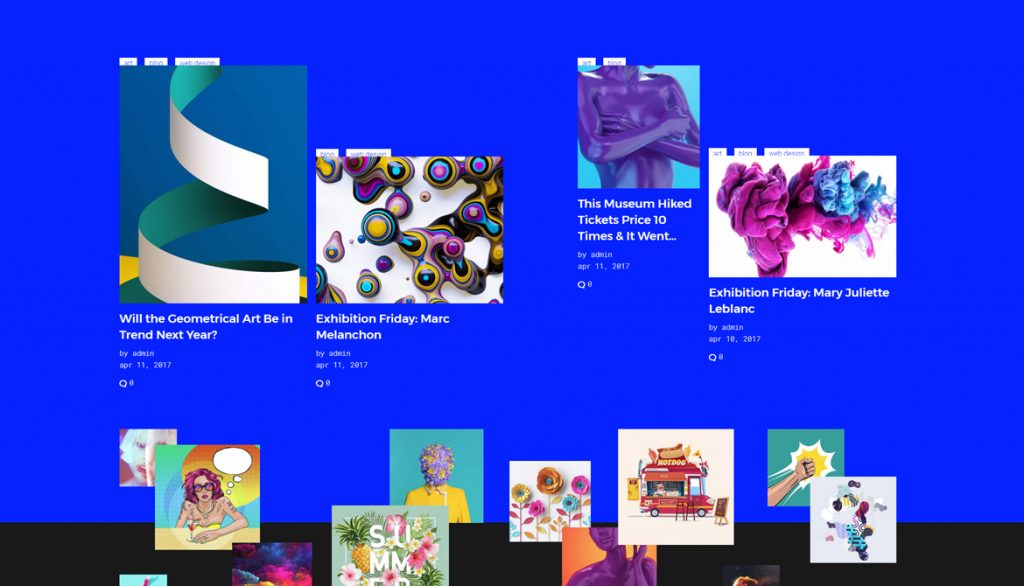 And don't forget about powerful bunch of service plugins, that will come to your help when you'll need to create a custom sidebar, a contact form or a drop-down menu. There are TM MegaMenu, Chery Sidebar Manager, Contact Form 7 plugin, which make you enter the totally new realm of creativity. Enjoy customization process, make an art of it!
There is also Jetimpex Dashboard plugin, that will come to your rescue when you'll need to install update or make a backup copy of your template customization settings.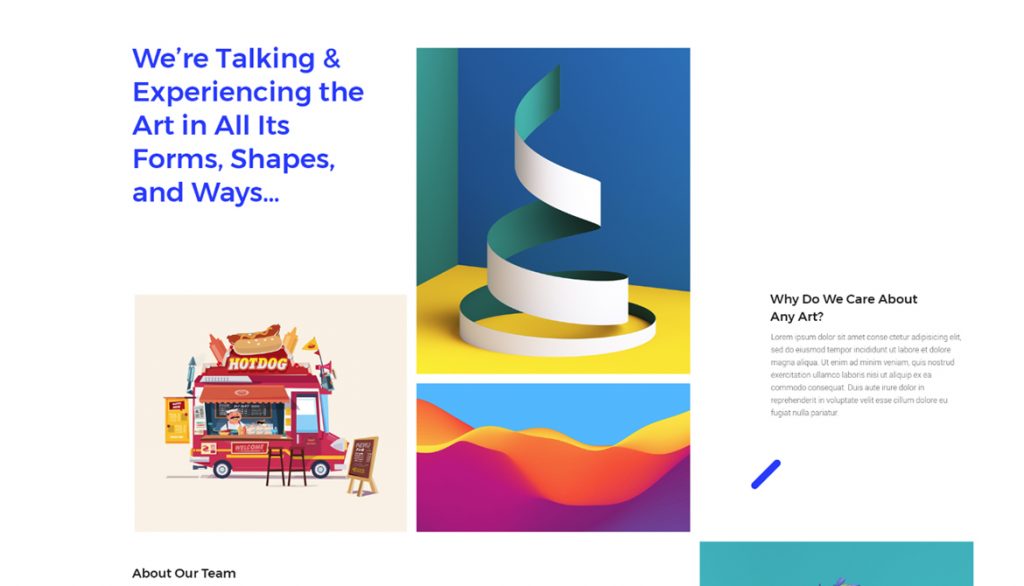 If you feel like you don't know how to install plugins or are worried about demo content installation, just let TM Wizard plugin do all the work for you, and you'll see how easy and quick will become the process. It is no longer worrisome, and TM Wizard comes together with your theme, so just activate it and take advantage of using it!
Creado WordPress theme is a definitely artistic, easy-to-use and customizable template, that will suit your purposes and help your art blog gain popularity at a cosmic speed!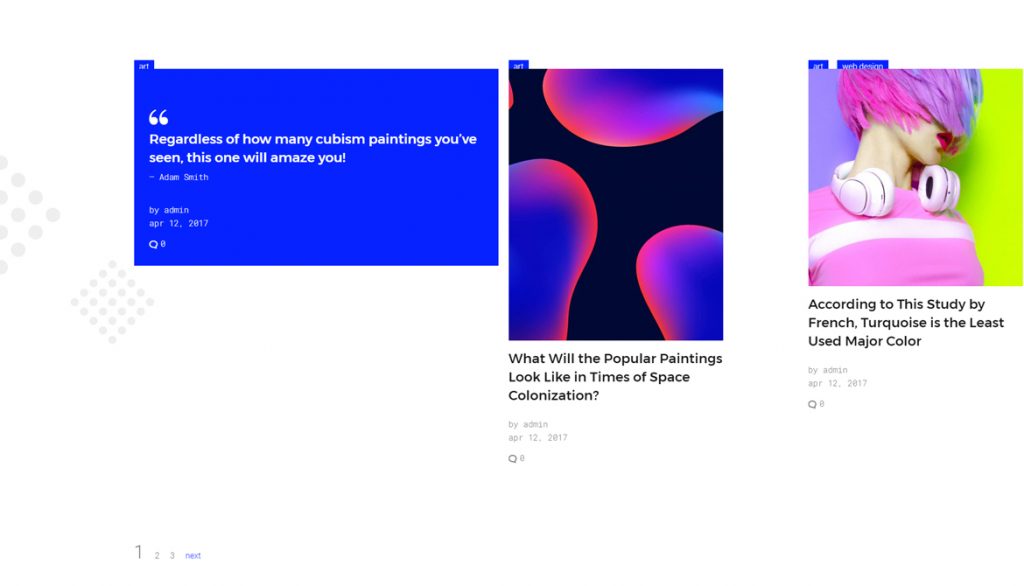 Find out more about what browser versions support CSS Grid layout here.